Nº 3 / 2014 - julio - septiembre
Feasibility of financing in the stock market of PYMES Colombia: health sector

Clara Eugenia Mosquera
Universidad Autonoma de Occidente (Colombia)
Margot Cajigas Romero
Universidad Nacional de Colombia
Abstract:
This paper emerges from research "Feasibility of financing in the stock market for PYMES in the health sector of the city of Santiago de Cali", considering that this source provides better conditions for traditional was necessary to establish the characteristics of PYMES likely to participate in the stock Market, the knowledge of their owners and managers on it and their willingness to enter this market, as set entry requirements and compliance level to enter the stock market.
The methodology used was Participatory Action (IPA), as constructed from the perspective of employers, employees, experts in the Colombia Stock Exchange and researchers. There is evidence that the stock market is designed for a select group of companies that have an organizational structure in line with global realities, but the Colombian realities.

Keywords: finance, securities, Health Sector, PYMES.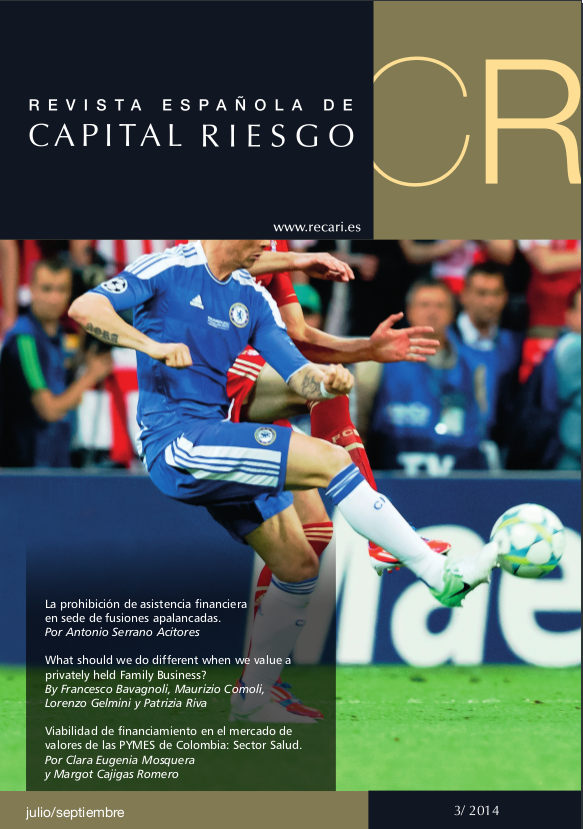 DIRECCIÓN REVISTA ESPAÑOLA DE CAPITAL RIESGO
Prof. Dr. D. Rafael Marimón
Catedrático de Derecho Mercantil
Universidad de Valencia
DIRECCIÓN BOLETÍN DE ACTUALIDAD DEL MERCADO ESPAÑOL DE CAPITAL RIESGO
Sr. D. Miguel Recondo
Instituto de Capital Riesgo (INCARI)